Click here to get this post in PDF
Baked Parmesan Hashbrowns, baked to golden brown perfection and made with freshly grated potatoes, are a breakfast favorite! They are loaded with flavor and are the perfect addition to your hearty breakfast. If you love traditional hashbrowns, then you will really love these Baked Parmesan Hashbrowns!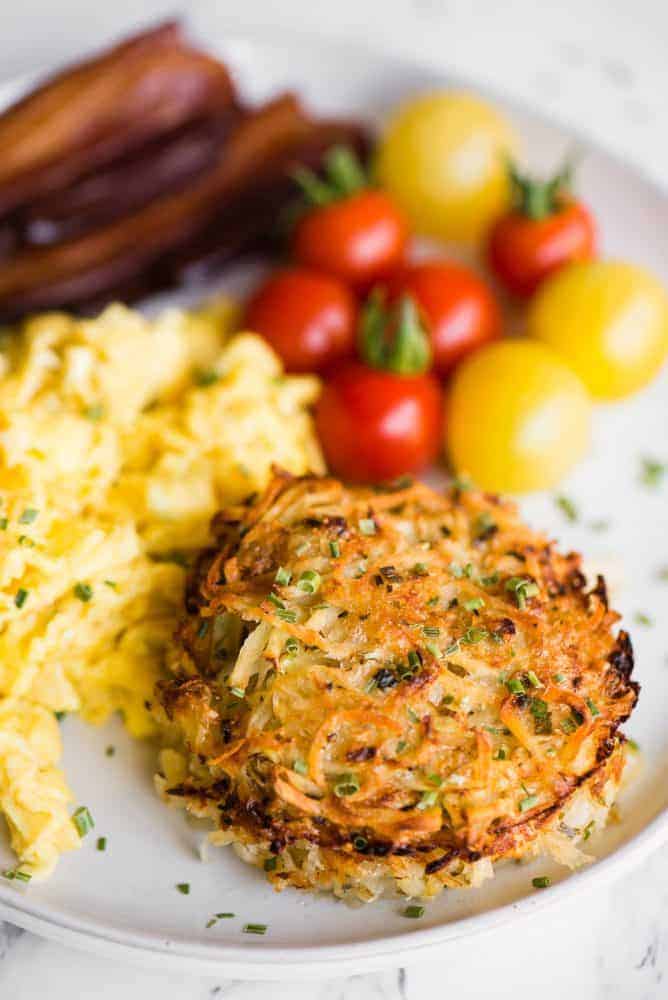 Hey everyone! It's Krissy here from Self Proclaimed Foodie and Ten Acre Baker and I'm back with my favorite kind of recipe… the breakfast kind! I've you've ever made my sausage gravy or monkey bread recipe, you'll know breakfast is my favorite meal of the day. In fact, our family eats it on a regular basis for dinner.
If you're a breakfast lover like me, or for that matter, a cheesy potato kind of person, then this homemade hashbrown recipe is for you!  This recipe is similar to The Best Breakfast Casserole and The Best Funeral Potatoes in that it combines shredded potatoes with cheese, however this is really just a super flavorful recipe for hashbrowns.
How to make these Baked Parmesan Hashbrowns:
First step is to shred the potatoes and onion. I find that using the food processor is the easiest method. My trick when cooking fresh breakfast potatoes is to soak and rinse them in water. This removes a lot of the starch which makes them taste better once cooked. I think the moisture also helps steam them during the cooking processes which creates super soft, heavenly cheesy potatoes.
Next I add the grated parmesan cheese, chives (I keep freeze dried on hand for recipes like this), garlic herb seasoning, freshly ground pepper, and extra virgin olive oil. You'll want to mix all of this in a large bowl so that it is well combined and each piece of potato is touching some parmesan cheese and is coated in olive oil. Getting hungry yet?
I bake these cheesy hashbrowns in a jumbo muffin pan. It allows them to get golden and crispy on top without losing their shape. You can use a smaller muffin pan just as easily to get 12 smaller portions instead of 6 large portions. Just be sure to reduce your cooking time a bit.
Variations of Baked Parmesan Hashbrowns:
These really are delicious and fantastic as-is, but if you like to play around with recipes like I do, try a few of these ideas.
Swap out the parmesan for a different kind of cheese. Cheddar, pepper jack, or gruyere would all work well.
Chop up some cooked bacon and add it to the mix. What's better than a bite of cheesy hashbrowns? Cheesy hashbrowns with bacon, of course!
Try filling the cups with less hashbrown mixture to make room for a cracked egg. The egg will bake at the same rate as the hashbrowns and you'll have a perfect little breakfast egg and potato cup to take to work or school.
Afraid the onion flavor might be too strong? Still use the same amount, but saute it in a bit of butter and allowing it to cool before combining with the potatoes. It'll take away the strong onion flavor but will still taste amazing.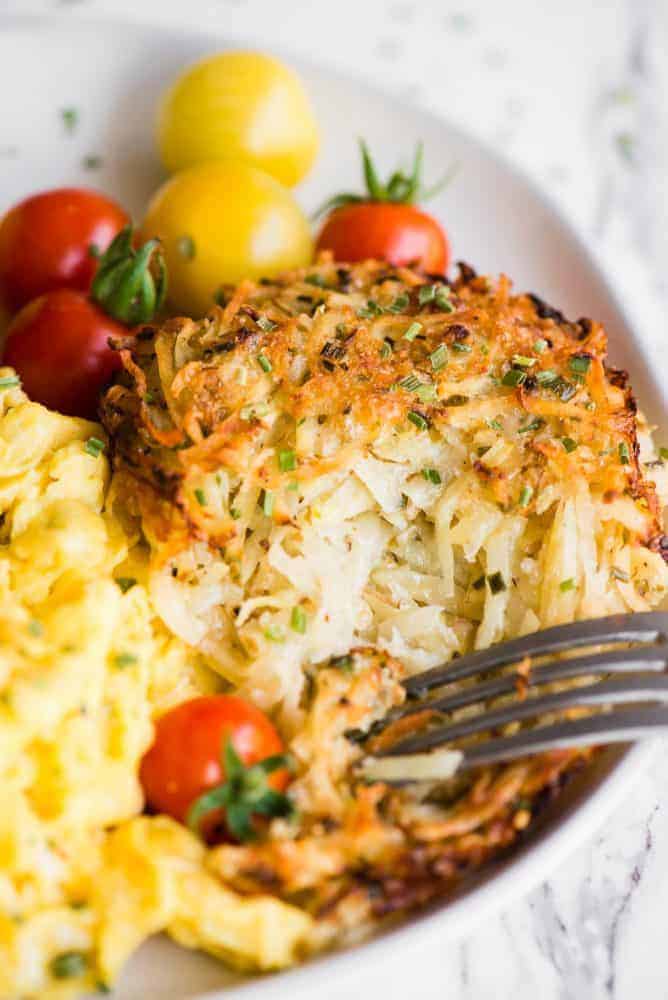 Baked Parmesan Hashbrowns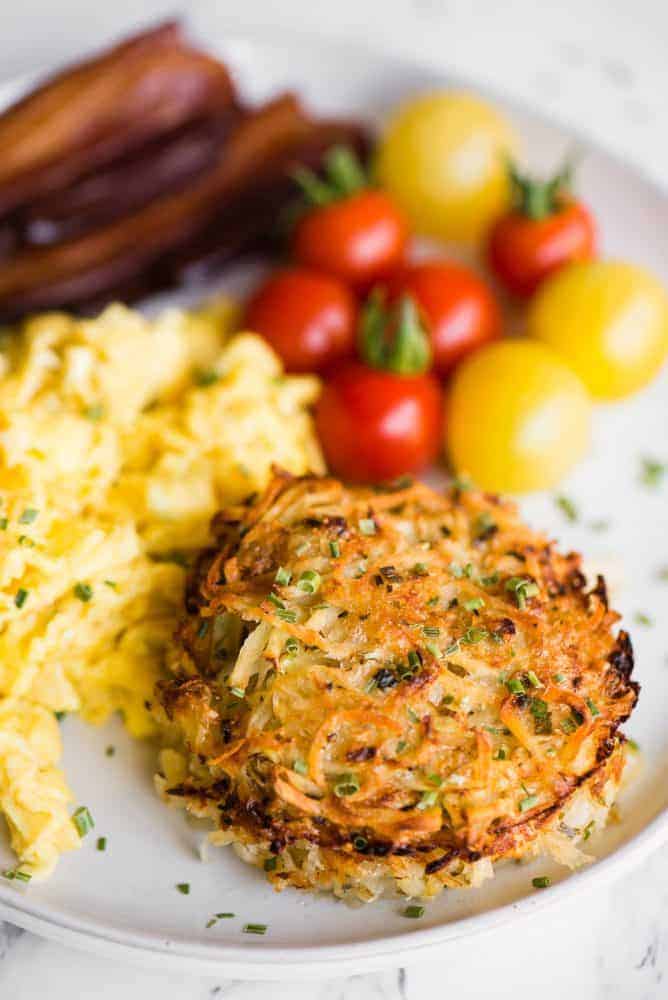 Ingredients
1½ pounds potatoes
1 small yellow onion
1 cup parmesan cheese, grated
2 tablespoons chives, minced
2 tablespoons garlic herb seasoning
1 teaspoon freshly ground pepper
¼ cup extra virgin olive oil
Instructions
Preheat oven to 400 degrees F. Grease or parchment line the wells of a 6-well jumbo muffin pan.
Peel or wash and scrub potatoes. Grate completely (the food processor is the easiest way).
Cut ends off onion, remove outer later, and grate.
Combine grated potato and onion in large bowl and cover with cold water. Stir well to expose potatoes and onion to water. Allow to sit for about 5 minutes and then drain well.
Add remaining ingredients to bowl, stir well to combine, then add to the prepared wells in the jumbo muffin pan.
Bake in preheated oven 40-45 minutes until the tops are golden brown. Makes 6 large Baked Parmesan Hashbrowns. Serve hot with your favorite breakfast.
3.5.3226
Original source: https://therecipecritic.com/baked-parmesan-hashbrowns/