Greek Broccoli Pasta Salad combines tender fusilli pasta with fresh vegetables and a tangy herb dressing. Broccoli florets are briefly cooked, chilled and then tossed with noodles, tomatoes, bell peppers, red onions, olives, and feta cheese. A wholesome side dish to serve with grilled meats, pack for a picnic or barbecue.
If you're looking for more nourishing vegetarian salads then try Farro Caprese Salad, Summer Corn Salad, or Strawberry Spinach Salad.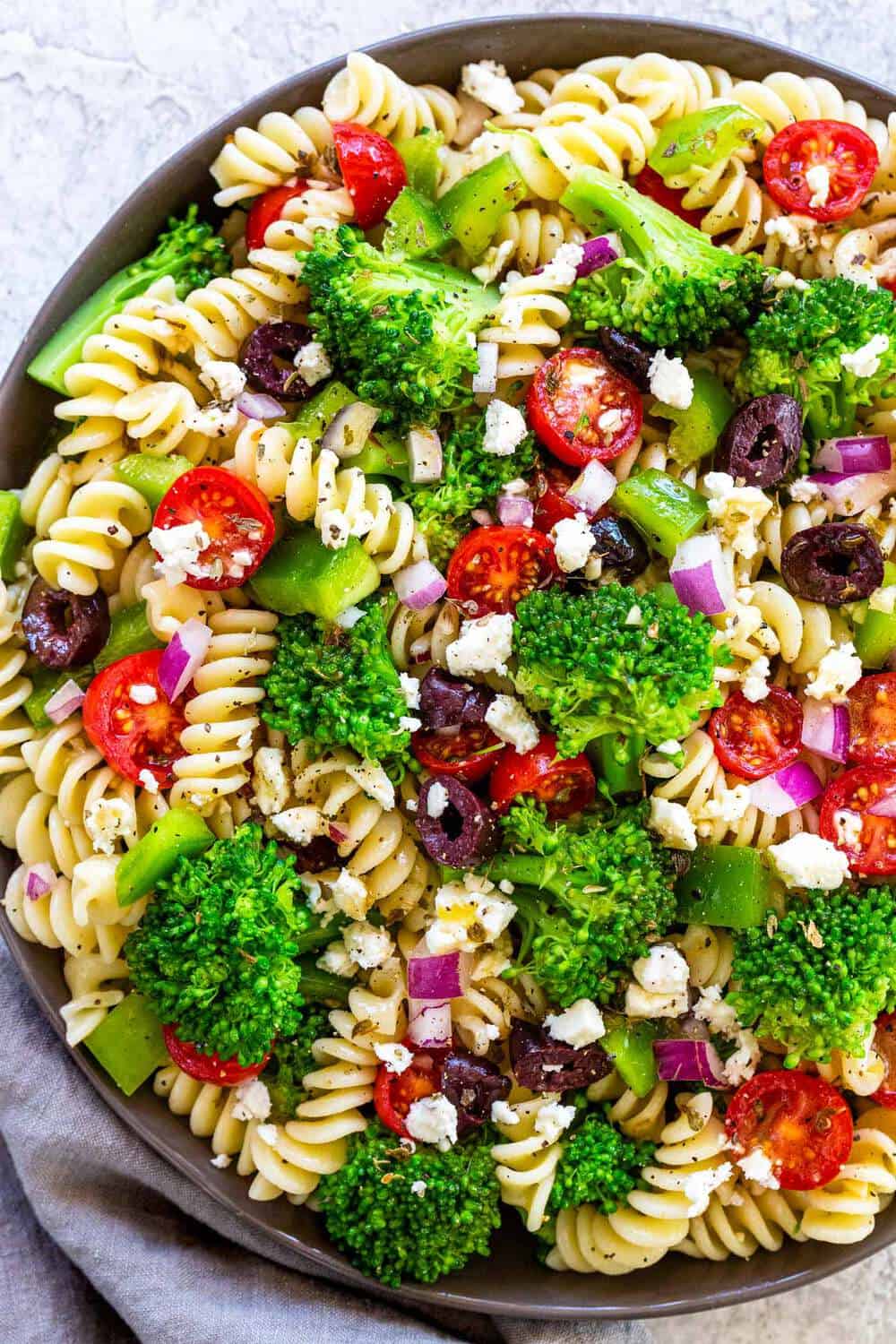 Greek Broccoli Pasta Salad
Add a Meditteranean twist to a typical pasta salad with just a few key ingredients. By combining fresh vegetables, kalamata olives, and creamy feta cheese to al dente fusilli pasta, it adds delicious Greek elements to each bite.
I'm always looking for ways to sneak in wholesome vegetables into each meal, and broccoli is one of the stars of this dish. Briefly cooking the broccoli ensures that each piece is tender and easy to eat.
To bring all of the ingredients together, a simple yet flavorful dressing is whipped up. An easy red wine vinegar dressing is whisked together and then drizzled all over the salad. The tangy and herbaceous flavors infuse into the pasta and vegetables for an irresistible appetizer or side dish.
How Do You Make Broccoli Pasta Salad?
Blanch the broccoli florets in boiling water for 2 minutes, and then chill in ice cold water.
Drain the broccoli before adding to the salad.
Cook the pasta in the same boiling water until al dente then drain and rinse under cool water.
In a large bowl combine the pasta, broccoli, tomatoes, bell peppers, onions, and olives.
Sprinkle with feta cheese.
Make the salad dressing by whisking together the vinegar, mustard, honey, garlic, oregano, salt, and pepper. Drizzle in the olive oil until the dressing is thickened.
Add the dressing and toss to combine with the pasta salad, or serve on the side.
How Do You Cook the Broccoli?
Broccoli is loaded with health benefits. However, can be extremely fibrous in texture and have a sulfurous taste when eaten raw. For this pasta salad recipe, I like to use a simple blanching method for cooking broccoli. It just takes 2 minutes to tenderize the vegetable, making it more palatable and sweeter in taste. Make sure to "shock" or chill the broccoli in an ice water bath to stop the cooking process. I often use this process when making broccoli salad.
What Type of Pasta is used?
Fusilli pasta is a corkscrew shape that allows the dressing to stick on to the noodle. Any other type of pasta can be used like farfalle, rotini, or Gemelli works well too.
What Ingredients are added to the Pasta Salad?
A colorful mix of fresh vegetables is added to the salad. There are different types of broccoli that can be used, I selected calabrese which is the most common found in the grocery store.
Sweet cherry tomatoes add a burst of flavor, but any vine-ripened type would be delicious. Green bell peppers and chopped red onions add a nice crunch. Kalamata olives are essential in Greek cuisine, as well as tangy Feta cheese.
How is the Dressing Prepared?
The red wine vinegar is vigorously whisked with the mustard, honey, garlic, oregano, salt, and pepper to infuse the flavors together. Make sure to very slowly add the olive oil, so that the dressing becomes thickened and emulsified. If making the dressing ahead of time whisk again right before serving.
How Long Will the Broccoli Pasta Salad Last?
The pasta salad will last for about 3 days covered and refrigerated. It's best to add the dressing right before serving for the best flavor and so that the pasta does not become soggy. You can prepare the components ahead of time and then toss with the dressing.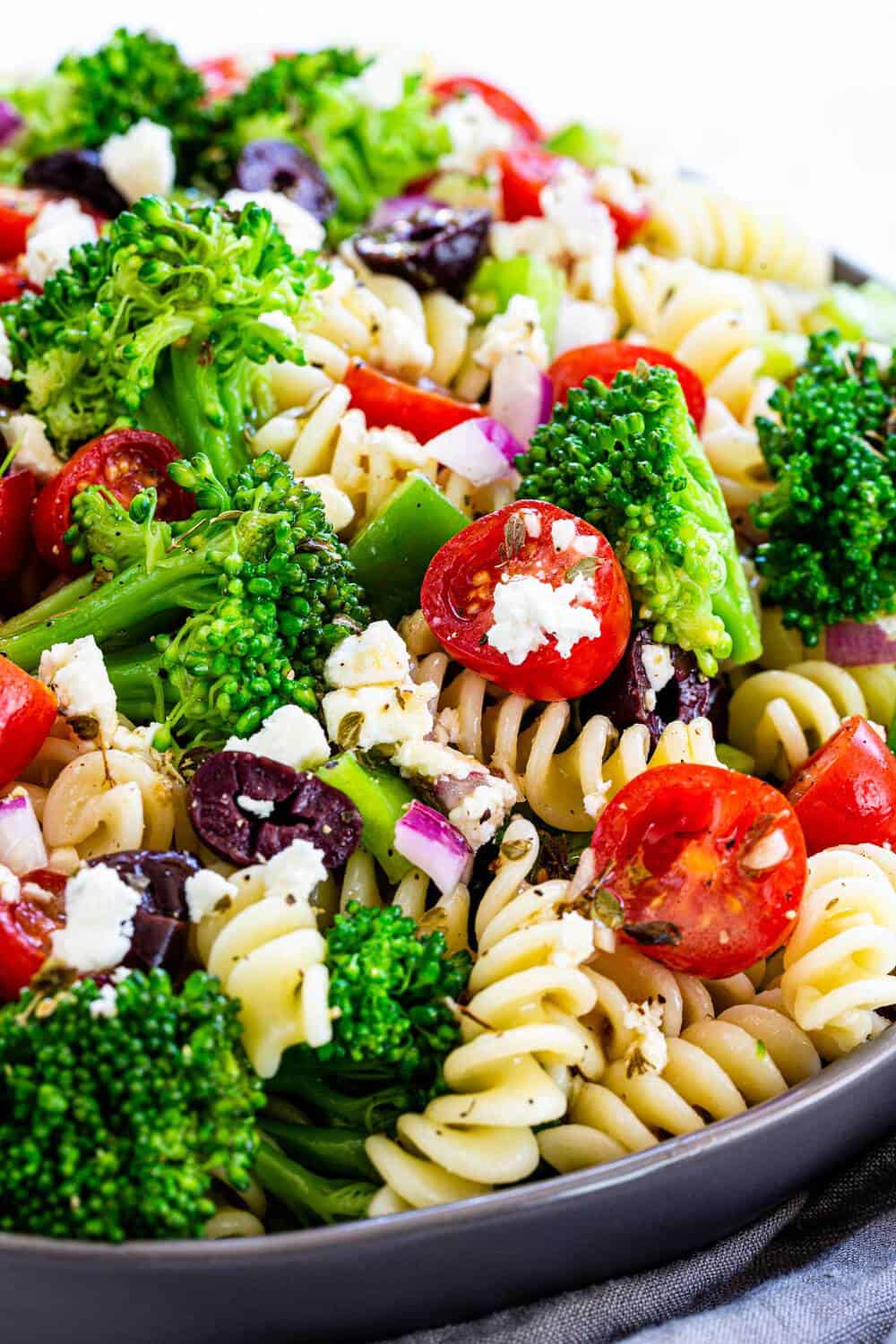 Looking for more Greek recipes? Try these ones!
Greek Chicken Sliders
Greek Tzatziki Pasta Salad
Greek Spinach Pasta Salad
Greek Broccoli Pasta Salad
Greek Broccoli Pasta Salad combines tender fusilli pasta with fresh vegetables and a tangy herb dressing.
Broccoli Pasta Salad-
7 quarts of water (divided)
1 tablespoon kosher salt
4 cups ice
4 cups broccoli florets (cut into 1-inch pieces (8 ounces))
1 pound fusilli pasta
1 ½ cups cherry tomatoes (cut in half)
1 cup diced green bell pepper (1/2-inch dice)
½ cup diced red onion (¼-inch dice)
½ cup kalamata olives (sliced)
¼ cup crumbled Feta cheese
Dressing-
½ cup red wine vinegar
2 teaspoons Dijon mustard
2 teaspoons honey
2 teaspoons minced garlic
1 teaspoon dried oregano
1 teaspoon kosher salt
½ teaspoon black pepper
½ cup extra virgin olive oil
In a large pot add 6 quarts of water and 1 tablespoon salt, and then bring water to a boil over high heat.
Add the broccoli florets and cook until bright green in color and crisp-tender, about 1 to 2 minutes. Do not discard the water.

Transfer broccoli to a bowl filled with 4 cups (1 quart) water and 4 cups ice to stop the cooking process, about 5 minutes. Drain the broccoli well.

Return water to a boil, add pasta and cook, stirring as needed until tender, about 9 to 11 minutes.
Drain pasta and rinse with cool water for 10 seconds, leaving the noodles slightly wet.

In a large serving bowl toss together pasta, broccoli, tomatoes, bell pepper, onion, and olives.

Sprinkle crumbled feta on top of broccoli pasta salad.

In a medium sized bowl whisk together red wine vinegar, mustard, honey, garlic, oregano, 1 teaspoon salt, and pepper.

Slowly drizzle in olive oil and whisk until a thickened dressing is formed. If not using right away, which again before adding to the salad.
Toss pasta salad with dressing or serve on the side.
Original source: https://therecipecritic.com/greek-broccoli-pasta-salad/